Strawberry Cultivation
Van Dingenen Nursery in Beerse recently commissioned a LED lighting installation in a greenhouse for growing strawberries. The engineering of the lighting project with fittings from MechaTronix and the electrical installation was carried out by Bosman Van Zaal. LED lighting for growing strawberries is becoming increasingly common, so that cultivation can take place all year round. A choice can be made for early and late cultivation, winter cultivation, or a combination of both.
During winter, the day is extended to 12 hours, so the crop does not go into hibernation and can be harvested continuously. The LED lighting at Van Dingenen is dimmable. In the months with sufficient light, the lighting can be adjusted so that the plant always receives the optimum amount of light. For each growth phase, more or less light can be chosen. And when energy costs rise, the choice can be made to dim the light to save on energy.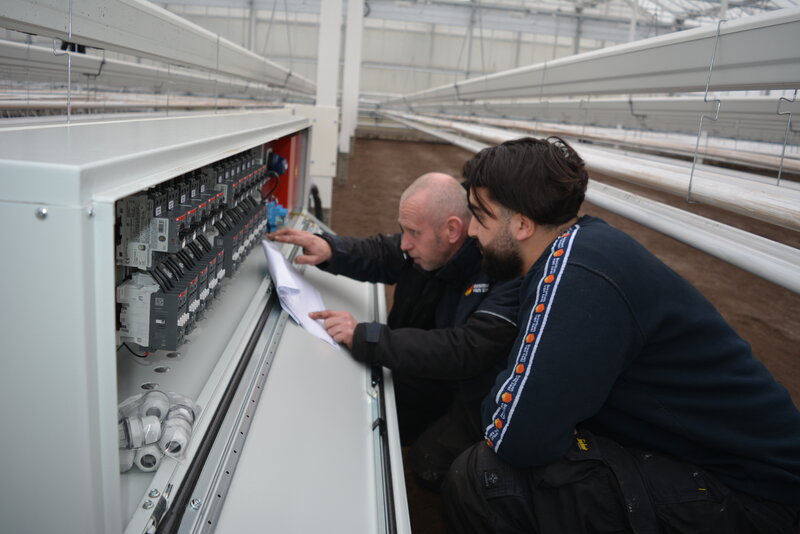 LED Lighting
A good balance between the right light spectrum for lighting and the right intensity is of the utmost importance from both a technical and financial point of view. Too little light quickly leads to lower production, flower abortion, smaller fruit, and a more difficult plant balance. Too much light increases both investment and operational costs.
The Bosman Van Zaal PLC, which was programmed in-house and is intended to control the processes, is used to protect the LED installation against exceeding the import capacity. For example: if the CHP for energy generation fails during lighting, the lighting is immediately switched off by the PLC. In normal operation, switching the lighting on/off takes place step by step, so that voltage fluctuations are avoided.