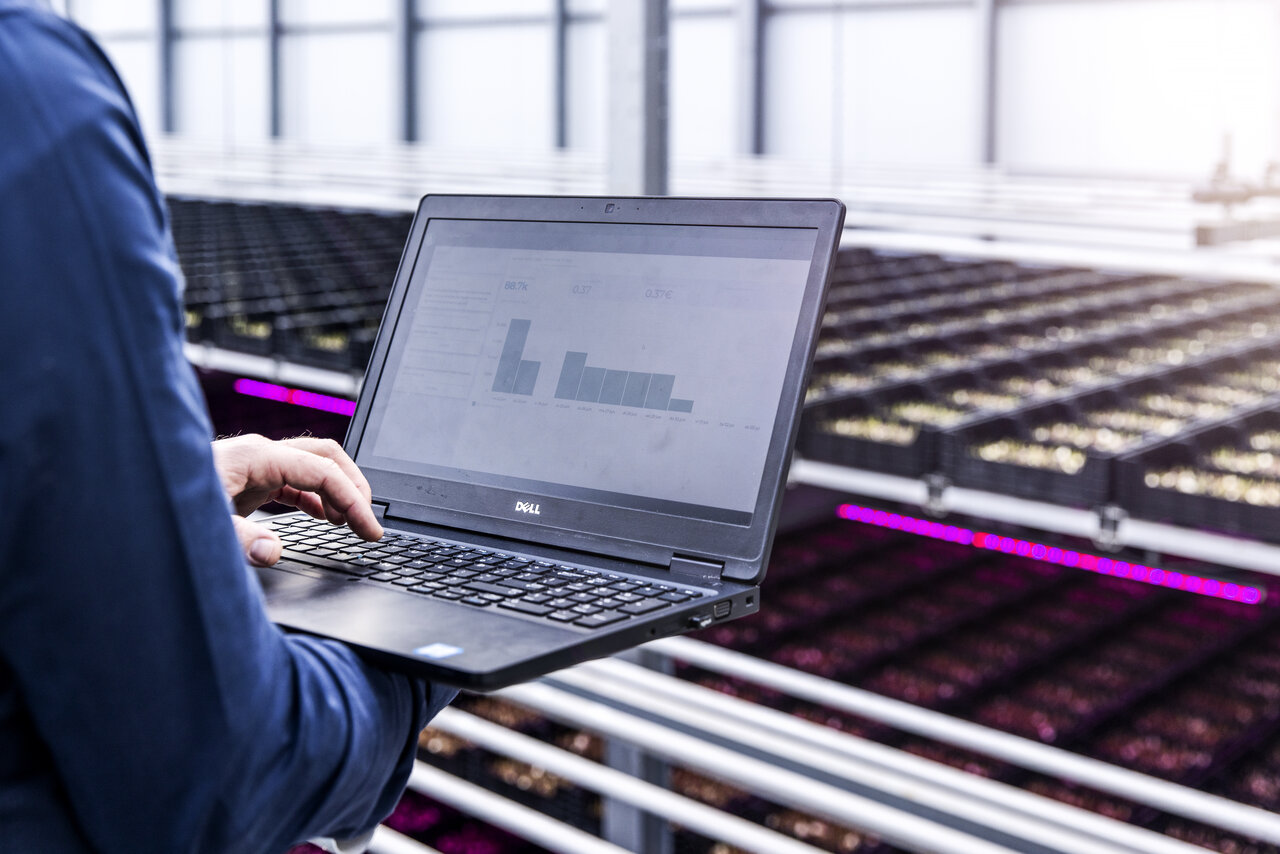 Business Intelligence
Our in-house developed POLARIKS platform offers all the focus areas mentioned above. It uses a platform and different modules to easily scale up or down, and new developments within the world of big data are regularly added. The platform is suitable for all production facilities where climate and technology meet, for example in greenhouses, indoor farms, vertical farms, climate chambers, cold stores, and research and development centres. The platform unlocks, organises, and displays the data, in four different modules.
The first module in the POLARIKS platform consists of the batching and analysing module. Batched data related to labour registration for example, and climate data retrieved from sensors and computers is transferred to commercial stock lines in ERP systems. The available data is then automatically unlocked, allowing for comparison and analysis between cause and effect relationships in one tool and in real-time. This is possible within companies, and also between companies (benchmarking). As a unique feature, the platform is near real-time (one minute if necessary!) and is batch-driven.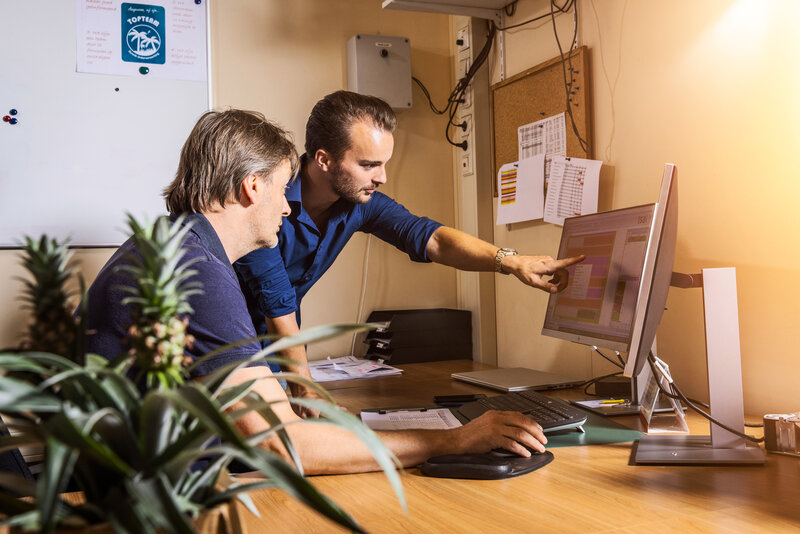 Digital Twin
Our POLARIKS platform comes with the Digital Twin module. This module consists of a tool that trains generic growth models of crops and offers case specific growth instructions and climate computer settings. Eventually, this will lead to autonomous growing. The Digital Twin generates future predictions of settings, production outcomes and operational costs. This module is always integrated with the module Data and Analyses.
The data is generated by the growing facility, as well as by other relevant, external sources. Production, climate, and labour data is extracted and exported to the cloud. Weather forecasts and energy prices are imported via standardised interfaces, to make future cost predictions.
Predictive Maintenance and Performance Management
Predictive Maintenance and Performance Management are vital components of plant-based production facilities that feature ever-more complex technology. The POLARIKS platform includes a module for this. It can be used as stand-alone or integrated with other modules. This module has access to and presents performance data of equipment and machineries and individual components. The predictive maintenance assures the functioning of all installations and a reduction of down-time.
The performance management functionalities register the activities of installations and give an overall overview of individual presentation, operational state of performance, and alarms generated by all equipment, machines, and components. The user can pinpoint a specific machine or component to check all the available data. All items can be labelled with relevant data, such as type, brand, batch, description, maximum use, maintenance data and manuals and accessed through an exploded view. It is even possible to zoom into a specific moment: for example, when a crane was operating or in an alarm mode.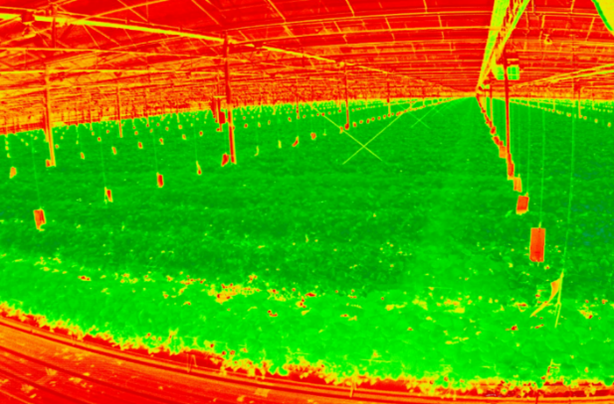 Visual Hyperspectral Recognition
Following crop photosynthesis activity remotely with the help of multi- and hyperspectral image recognition software allows you to identify problematic areas in growing facilities. With special cameras and spectral imaging software, information can be derived from images taken in the growing facility. Operators can then easily identify the inefficient plants or areas and take action.
Visual Hyperspectral Recognition is a module of the POLARIKS platform. The module can be used as a stand-alone product or integrated with one or more modules.
From Vision to Solution
Based on intensive customer contact, we work on integrated solutions. Solutions that utilise labour, time, raw materials, and space as efficiently as possible. At Bosman Van Zaal, product development and realisation are performed in-house by our own multi-disciplinary teams. Our step-by-step approach starts with your vision and ends with our technical solution with lifelong service.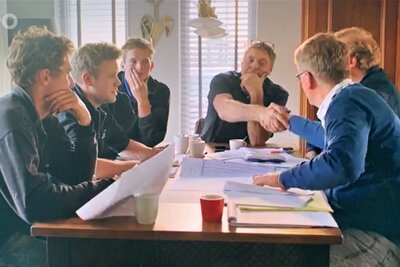 1. Define
What are your wishes and challenges, and what do you define as optimal cultivation and maximum yields? Our multidisciplinary solution team starts by listening and will propose technical installations.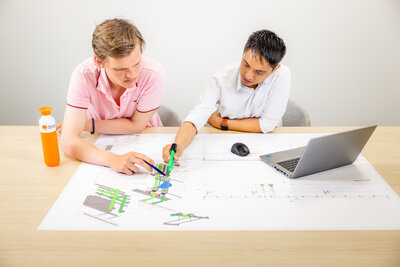 2. Engineer
The final proposal is then translated into smart, inventive, and practical designs by our own team of engineers. We base this on our many years of experience and use the latest technology and insights.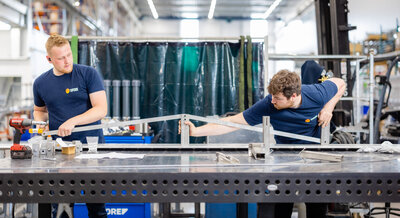 3. Realise
The technical solutions are manufactured in our automated machine park by our qualified production team. We ship worldwide and work with our own staff or in collaboration with (local) partners.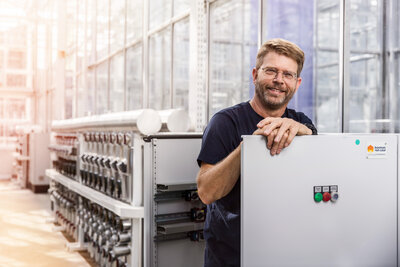 4. Service
After delivery, we stay in contact with your company. We provide employee training, and we offer 24/7 service online and on location, guaranteeing a long and efficient service life of the technical installations.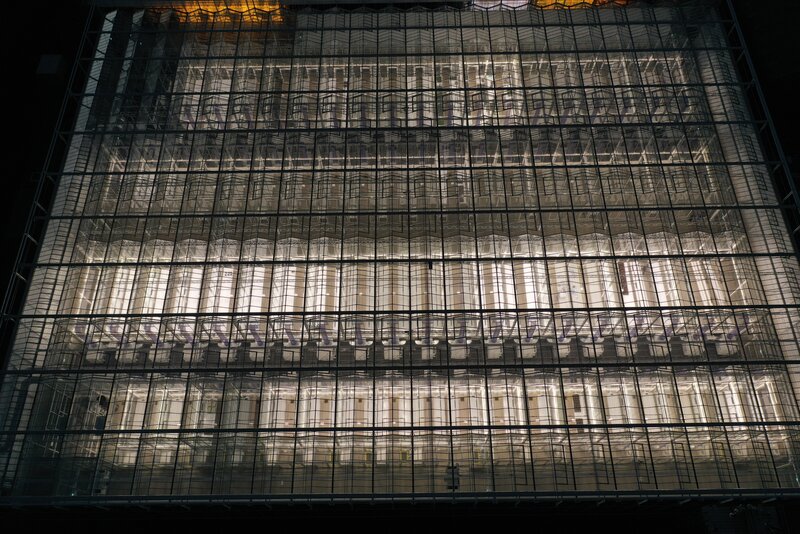 Turnkey Approach
Our team consists of experienced engineers, technicians, and programmers in areas of expertise such as data, cultivation, vertical farming, and internal logistics. We design and manufacture everything in-house at our head office and modern factory.
This ensures a high level of flexibility and accessibility. Characteristics of which we are very proud!
Read more